FINAL
FINAL serves as an undefinable and experimental interpretation of Justin Broadricks more recognised music ; encompassing the brutal and the dark to the beautiful and the melodic, the term ''ambient' is often used to describe the sound of FINAL, but the music is not at all intended to function purely as background as the term 'ambient' generally implies.....
Before Justin Broadrick was in Napalm Death and way before his Jesu, Godflesh and Techno Animal projects , he had FINAL, this was the first music that he made and the first concerts he ever performed ; initiated at the tender age of 13, inspired by the true old industrial music of Whitehouse, Throbbing Gristle, Ramleh and Maurizio Bianchi etc, Justin used his step fathers primitive musical equipment to forge his own sound influenced by the aforementioned artists and attempt with like minded individuals and friends to establish his own sound and vision. Basic recordings were made and this led Justin to form a cassette label in early 1984 (Post Mortem Rekordings) releasing his own cassettes and eventually other artists too, this tape only label lasted from early 1984-86, releasing over 50 cassettes of confrontational hate noise/power electronics and Throbbing Gristle inspired electronic psychedelia. By the time Justin joined Napalm Death in 1985, he had already become interested in creating music outside of the 'industrial/noise' genre, even FINAL itself around this period briefly became a band using 'rock' instrumentation. Once Justin had become busier with Napalm Death and the pre Godflesh band Fall Of Because, he slowly moved away from what he was doing with FINAL and eventually shelved the project in late 1986.
After the first 3 years of the existence of Godflesh, Justin became interested in wanting to resurrect FINAL, recognizing the open ended area FINAL worked in and yearning for more experimentation particularly within an area without the trappings of 'rock' music. Justin began recording new pieces, utilizing guitar,tapes,synths and samplers. The result was the first ever CD release by FINAL simply entitled 'One', this was released by Sentrax in Europe and Bill Laswells label Subharmonic in the U.S.A in 1993. 'One' collected Justin's first new work as Final in over 6 years, also included on 'One' was a long piece that compiled small edits of some of Justin's earlier work as Final from 1983-86.
The influences on FINAL were now much wider than the earlier 'industrial' influences ; sombre and textural ambient sounds had a huge bearing upon the early 90's incarnation of FINAL, Justin's exposure to Brian Eno as a youngster had made its impact. More releases followed - FINAL '2' on Sentrax once more, the full length CD - 'the first millionth of a second' (in collaboration with Godflesh's GC Green) which was released on U.S experimental music giant Manifold, Jesu bassist Diarmuid Dalton also began to collaborate with Justin, both on Final '2' and on the 'Solaris' CDep released on Alleysweeper/Invisible, later re-released as a full length with a 30 min extra track. After two 7" singles and numerous compilation appearances, Justin continued to record FINAL material but without a planned release schedule due to being so busy with other projects.
In 2001 Neurot approached Justin offering to release FINAL '3', and Justin set about slowly recording and accumulating material from then until early 2005, some in collaboration again with Diarmuid Dalton. Bringing us to the present day, FINAL '3' which is finished newly released in Feb. 2006, is a double CD set compiling various recordings from 2001-2005. Since forming Jesu, Justin has become very active with FINAL inspired by his new works on '3', recording has already begun for forthcoming releases, and now Justin is preparing to perform as FINAL, his first performances as FINAL since 1985! FINAL is more active than ever....
FINAL collaborators from 1983 to the present day:
Andrew Swan,Guy Pearce,Nicholas Bullen,Kevin Johnson,Paul Neville,GC Green,Diarmuid Dalton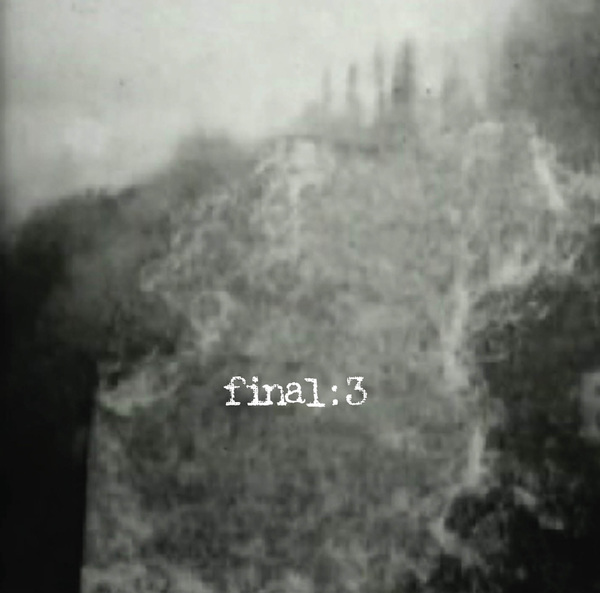 Tour
No dates scheduled at this time