GREY DATURAS
Melbourne Australia's Grey Daturas are an improvising, instrumental trio with no songs or melodies; they don't rehearse; yet they maintain a touring ethos to match that of early hardcore pioneers.
Drawing sonic influence from a vast ocean of musical styles including free jazz, the avant garde, psychedelic rock, punk, metal, industrial and noise, Grey Daturas have developed a blend of harsh and dark psychelelia unmistakably their own.
From their more nihilistic, sheer noise based beginnings improvising sound tracks to silent horror classics and sixties physics animations, Grey Daturas have over the course of the last 6 ½ years morphed into a surreal auditory nightmare, blending dark pulsating drones, slow low-end sludge riffs, crushing percussion, and walls of ear torturing noise.
Now three and a half years since the release of their globally acclaimed second album Dead in the Woods, and following numerous EP's, split and collaborative releases with the likes of Yellow Swans, Monarch, Bardo Pond and Wolf Eyes, Grey Daturas have unearthed their finest and most challenging work, their highly anticipated 3rd album, Return to Disruption.
As with all follow up releases comparisons to the predecessor are inevitable. Between Dead in the Woods and Return to Disruption the most obvious difference is the improved production values. Where Dead in the Woods took a modest month to complete on 8-track/¼" tape, Return to Disruption spanned a lengthy 18 months on 24-track/2" tape. The band once again teamed up with Melbourne based recording engineer Neil Thomason to track and mix drums, guitars, bass and various other sounds and objects such as contact microphone feed back, scrap metal, hardware materials and tools, violin, saxophone and electronics. Following three months with Neil, the remaining 15 months (between numerous tours of the USA, Europe, and Australia) were spent painstakingly post producing and collaging together the original tracks from Neil's sessions, with the final mastering touches of Pig Destroyer's Scott Hull, to what has become the vast and consistently flowing epic that is Return To Disruption.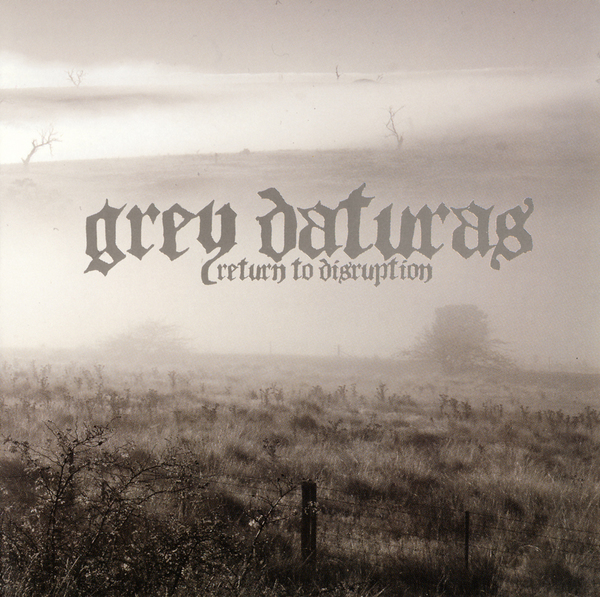 GREY DATURAS
RETURN TO DISRUPTION
Tour
No dates scheduled at this time